SWISS SME card package Platinum
✓ 4,000 BenefitPoints for your company
✓ 5,000 welcome miles
✓ Save CHF 350 in the first year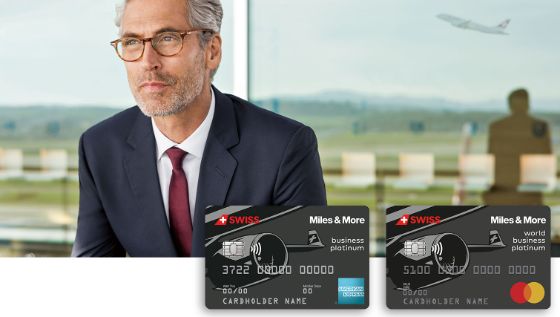 It's worth it
Flight awards for the company, miles for the employees
If you pay for your flights3 with a SWISS SME card, we reward the company and its employees.
With the SWISS Miles & More American Express Business Platinum and SWISS Miles & More Mastercard World Business Platinum, you are a welcome guest worldwide and earn even more valuable BenefitPoints and Miles & More miles.
The most important advantages for your company and your employees
Additional benefits with added bonus
1 Only for companies that become a new PartnerPlusBenefit member with the SWISS SME card package.
2 The first time the SWISS Miles & More American Express Business is used.
3 The flight has to be purchased in Switzerland with SWISS, Lufthansa or Austrian Airlines using the SWISS SME card package (directly with these airlines or with a travel agency, if it processes the payment through the airlines mentioned). The "PartnerPlusBenefit General Terms and Conditions (GTC)" apply, which can be found on partnerplusbenefit.com
4 Except for fees, interest, back-charges, cash withdrawals, payments for bank transfers and currency exchanges (also into monetary surrogates such as cryptocurrencies, Travelers Cheques, topping up cashless payment methods etc.) as well as payments to securities brokers, payments for services associated with the card (e.g. optional insurance) and any gaming or similar gambling transactions.
5 Please refer to the General Terms Conditions of Insurance (including information for persons insured under collective insurance) to obtain the exact provisions (including sums insured and exclusions of liability), which can be viewed at swisscard.ch or requested from Swisscard AECS GmbH.
6 Double the miles for all rentals at outlets operated by Sixt in Switzerland, Germany, Austria, France, Monaco, Belgium, the Netherlands and Italy. Only when paying with your SWISS SME card package at Sixt. Double miles are not credited for bookings through organizers or agents.